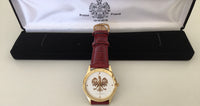 Limited Edition Polish Watch
Time is Ticking Inc., one of North America's leading watch designers has a long tradition of creating historical watches which reflect a nation's distinguished heritage. We are pleased to offer a limited edition 'Poland's 100th Anniversary Watch as a Nation' displaying the Eagle.
The slim-line watch has a Seiko Japanese movement, 24K gold plating on its face, leather or sport strap, and an engraved case. The watch will be delivered in a black embossed velveteen collector's box.
Proceeds of this limited-edition commemorative watch will support Polish charities.
Buy Now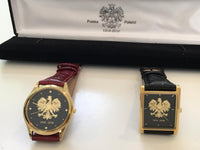 Limitowana Edycja Setna
Time is Ticking Inc., jest jedną z czołowych firm w Północnej Ameryce z długa tradycją kreowania historycznych zegarków które pięknie i klasycznie reflektuja wybitna kulture i wartosci narodu.

Smukły zegarek z Japońskim mechanizmem firmy Seiko, pokryty 24-karatowym złotem, z wygrawerowanym deklem i skórzanym lub sportowym paskiem.

Zegarek zostanie dostarczony w czarnym, wytłaczanym, aksamitnym pudełku kolekcjonerskim. Ten piękny zegarek z limitowanej edycji będzie zarówno wspaniałą pamiątką jak i prezentem.
Kup Teraz / Buy Now